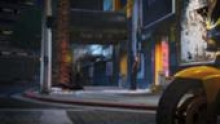 Tequi-la-la is a nightclub making its debut appearance in Grand Theft Auto V.
Its name is a reference to both the Mexican alcholoic drink Tequila and the real-life Whisky a Go Go night club.
Tequi-la-la is one of the businesses in the game that the player can purchase. It costs $2,000,000 and generats a weekly return of $16,500.