Switching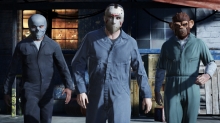 As mentioned on the previous page, there are three playable characters in Grand Theft Auto V and you are able to switch between the three of them almost completely at will using a radial menu system.
The exception to this is when you're in the middle of a mission or when you have a wanted level, in which case you will only switch characters as required to complete the mission in what are partially scripted instances, or when you've lost your wanted level, respectively.
Outside of these two exceptions you can switch at will. When you are not 'occupying' a character, he will continue to go about his daily life and when you switch into him you will be transported into whatever situation he was in prior to your switching.
When switching characters the camera will zoom out and then in again to the chosen character, 'Google Earth' style.
Character Attributes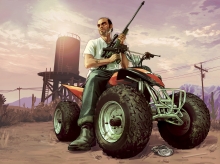 Each character has his own unique personality in the story, and this also plays into the gameplay. They have their own unique hobby preferences (for example, Trevor enjoys adrenaline-enducing acitivities like jet skiing, quad bike racing, and hunting whilst Michael leans more towards activities like tennis and golf).
Each character is also rated in a series of different categories: Stamina, Shooting, Strength, Stealth, Flying, Driving, and so on.
They also have their own unique skill(s):
Michael - Bullet time-esque ability when using guns

Trevor - A frenzy mode where he deals more and takes less damage, and also a special melee attack

Franklin - A slow motion ability when driving
Customisation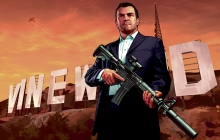 The RPG-esque character customisation elements that were in San Andreas do not return for Grand Theft Auto V, however you can improve their various abilities and can customise each character's clothing, their hair styles and tattoos.