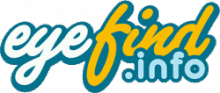 Eyefind.info is a website found in Grand Theft Auto V. It is the main web portal for the in-game internet, which is accessed via your mobile phone.
Eyefind.info's slogan in Grand Theft Auto V is: "...For when you should be working".
On Eyefind.info you can check your e-mails, view major stories linked to your storyline, view adverts, use the services listed on the page, access the search engine and use LuckyFind Search, which allows you to look for random websites that appear in a list.