The Basics
Grand Theft Auto V carries on in the best tradition of the mainline console entries in the franchise. It is, at its core, a third person action/adventure sandbox game, with a heavy focus on the numerous activities and possibilities inherent in the game's massive open world and on third person combat (primarily with guns and other ranged weapons, but also with melee combat).
The World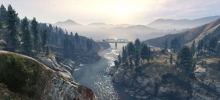 Grand Theft Auto V is set in Los Santos and its surrounding countryside. Although not consisting of an entire single state as was the case in San Andreas, the world in Grand Theft Auto V is actually much larger than any of the previous games in the series.
Indeed, it's been reported that Grand Theft Auto V is bigger than the worlds of Grand Theft Auto: San Andreas, Grand Theft Auto IV and Red Dead Redemption combined and covers a wide variety of locations from beaches, to forests and surrounding countryside, to the vibrant inner-city.
For more detail information on the world of Grand Theft Auto V check out our dedicated Locations section.
Character Switching
There are three main playable characters in the game - Franklin, Trevor and Michael - and you can switch between them at any time (assuming you're not in the middle of a mission).

Even when doing missions, you'll still be able to switch between characters during pivotal moments, which provides players with different perspectives and objectives.
The characters still go on about their daily lives even when you're not playing as them, which makes for some amusing or exciting moments when they're switched to (for example, you might be playing as Michael and then switch to Trevor, who might be in a bar getting into a fight. Likewise, you can switch to Franklin, who might be on his way to repossess a car).
Missions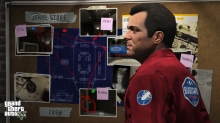 The mission structure is highly varied, consisting of five or six key heist story-based missions which will require careful planning and execution, and more minor missions in-between.
Much like classic movie heists, you'll need to purchase the necessary equipment, including outfits, weapons and vehicles. As the game progresses the heists become more ambitious and you'll be able to recruit a crew with each member having his own unique specialisations. Assuming they survive, their skills will improve over time as well.
Outside of the story missions there are dynamic quests which will randomly pop up and can be optionally completed (e.g. a thief will steal an old lady's purse and you will be able to chase them down and catch them if you so choose).
Side missions return (such as the 'Strangers and Freaks' side missions), and there are the usual vast selection of optional quests littered throughout the world, recreational activities to take part in (see section below), and collectibles to find.
Recreation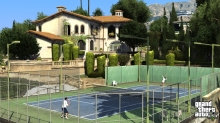 Grand Theft Auto V also includes a wide selection of recreational activities that players can engage in, including sports like tennis, golf, and triathlons, as well as relaxing activities like yoga and scuba diving.
Each of the key playable characters also have their own unique hobbies. For example, Trevor enjoy hunting, whilst Michael enjoys playing tennis on his private tennis court.
For more detail and a complete list on the recreational activities found in the game, check out our dedicated Hobbies & Pasttimes section.
Combat
The combat has been refined since the Grand Theft Auto IV era. The shooting mechanics have been evolved to give a more realistic feel and better mechanics, and melee combat has also been improved.
A whole host of new weapons have been introduced, as well as the return of classic fire-arms.
Vehicles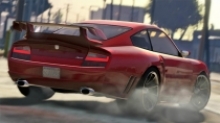 The vehicle mechanics have been altered as well to make the handling feel less boat-like and more like a real racing game's controls.
Grand Theft Auto V contains more vehicles than any of its predecessors. By far the most numerous are road vehicles like SUVs, hatchbacks, sports cars and the like, with a number of cars making their debut in this entry while others have been taken from previous games in the series and re-designed.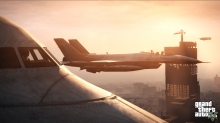 Perhaps more interesting is the fact that a great many more non-road vehicles feature in the game, including a variety of aircraft, watercraft, trains and dirt and quad bikes.
For a complete list of vehicles found in the game and their details check out our Vehicles section.
Pedestrians
Pedestrians also act more life-like. If you 'flip people off' (a new feature in the game), the pedestrians will tend to act differently depending on which area of Los Santos you're in.
Pedestrians also go about their daily lives more convincingly. For example, they will make use of the buses and actually reappear in the appropriate location along the bus route.
Ecosystem
Grand Theft Auto V features a fully functioning ecosystem, which means the game is teeming with animals.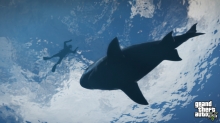 The most notable animal to feature in the game is the rottweiler Chop - Franklin's pet dog - but there's also plenty of wildlife as well as pets in the game, including fish, sharks, seagulls, deer, and so on, many of which can be hunted.
For more information on the various animals found in the game check out our Animals section.
Economy
Rockstar have emphasised that the economic structure of the game has been tweaked quite substantially. Dan Houser noted that in previous games, once you reach a certain point you end up having more money than things to buy, so they were keen to make a more enjoyable economy with long-term money pits.
There are significantly more things to spend money on, some missions will require you reach a certain amount of money before you can access them, and perhaps the largest money sink of all - property - is highly expensive.
Mobile Phone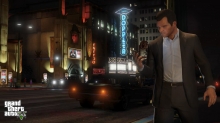 The mobile phone system returns, however it is much less demanding this time around. Contacts will not phone you up on such a regular basis and the ability to access e-mail and the internet has been streamlined for ease of access.
The phone also has a number of apps such as internet, contacts, social media, a calendar, a replay missions app, and even a dog companion app.
You can also use the phone to take pictures which you can then upload to the Rockstar Social Club.
Customization
The official gameplay trailer released on July 9, 2013 first showcased a few options to customize not only the characters in the game, but also the vehicles. Players are able to change the clothes the characters wear, from the shirts and pants, as well as accessories. In addition, the characters can also get tattoos.
Characters aren't the only things customizable in the game, as you can also make extensive alterations to vehicles as well.