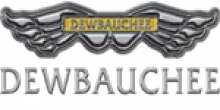 Dewbauchee is an automotive manufacturer featured in Grand Theft Auto IV and Grand Theft Auto V that makes cars based on the real-life Aston Martin range of cars.
The name itself is a play on the word debauchery, reinforced by the fact that the logo resembles four pairs of spread out feminine legs.
Dewbauchee makes the Super GT, Dewbauchee Classic and Dewbauchee Convertible.