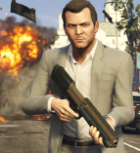 The Bullpup Shotgun is a weapon found in Grand Theft Auto V. It is only available to those who purchase the Special Edition or Collector's Edition of the game.
It has a magazine size of 14 shells and a firing rate of 70 RPM.
It more than makes up for its slow, pump-action rate of fire with its range and spread, and decimates anything in its projectile path.