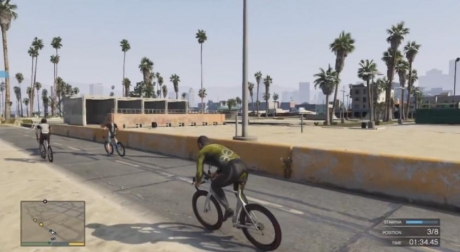 Grand Theft Auto V features Triathlons - multiple stage marathons that feature three different sporting disciplines which players take on consecutively. These disciplines are (in order): swimming, cycling, running.
Players can sign up at Vespucci Beach to compete in their first Triathlon once they've completed the mission 'Complications', and are then put directly into a race.
The A/X button is used to sprint, but this depletes your stamina bar. Once depleted, you will be significantly slowed down. Eat into too much of your stamina and your health will also begin to deplete. In between each discipline you recover some of your stamina.
There are two other places where players can take part in a triathlon race: Alamo Sea and Sandy Shores, each event being harder and longer than the next.
Note: You must win a medal in each of the three triathlons in order to achieve 100% completion