This mission can be started as Trevor in Downtown, Los Santos, from a guy who is standing at the gates to a high-end house. He introduces himself as Josh Bernstein, and he wants you to destroy all of the "For Sale" signs of Lenny Avery, in the northern section of the city.
At first, this might seem like a daunting task, as they aren't marked on your map, but you should get a text from Josh not long after you begin searching. He will point out a website with all of the listings for Lenny's properties, so visit it and click on the map to see a total of 15 properties. Clicking on the markers for each property will bring you to a window where you can get directions to each one.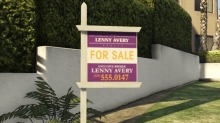 Once you reach a designated property, find a "For Sale" sign in front of it and then just shoot it once (preferably with a Suppressor) to destroy it (you can also punch it if you want). The following is a list of all 15 properties, as a means of a checklist to keep track of them:
Hampstead Drive
Cougar Avenue
Playa Vista
Sam Austin Drive
Ace Jones Drive
Vinewood Hills (1)
Milton Drive
Greenwich Place
Vinewood Hills (2)
Vinewood Hills (3)
Abe Milton Parkway
Vine Drive
Eclipse
Marlowe Drive
Vinewood Hills (4)
There is no mission completion signal, but you're finished after destroying the last sign.