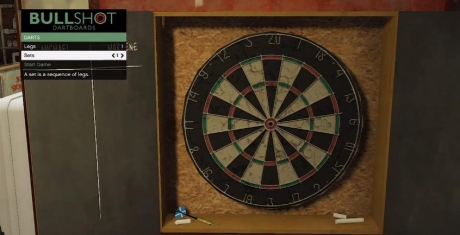 Darts returns and is similar to the version of darts found in Grand Theft Auto IV. Players compete against the AI in a game of 301, and can select the number of 'Legs' (or games) and 'Sets' (sequence of games).
This side game can be accessed after you have completed the mission "Crystal Maze", and is at the Yellow Jack Inn near Route 66 and the Grand Sanora Desert.
The game is played by aiming at a position on the dart board and then throwing the dart by pressing A/X. You can also briefly steady your character's aim using the right trigger.
Note: You must win 1 dart game in order to achieve 100% completion