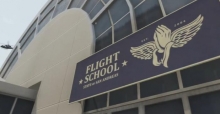 The final lesson in Flight School is Earn Your Wings. This challenge tasks you with flying through a checkpoint course in the city skyline, and you'll need to perform a number of trick you learned in previous lessons.
When the checkpoint is green you need to go through it using the knife flight trick, when it is blue you need to go through it using the inverted trick.
You're given 3 minutes and 40 seconds to complete this lesson, and once complete you'll have 'earned your wings' and completed everything you need to complete at Flight School in order to achieve 100% completion.