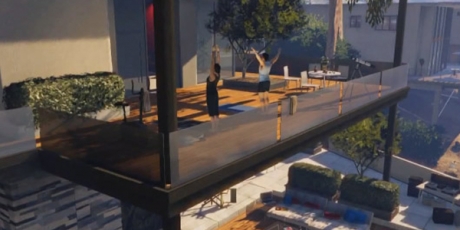 One of the more novel and unique side activities to be found in the game, players can take part in Yoga exercises.
In this mini-game you follow on-screen prompts to perform various yoga moves.
Grand Theft Auto V's 'yago master' is Fabien LaRouche, who is well known for his sexually suggestive yoga moves (with women at any rate; see image below).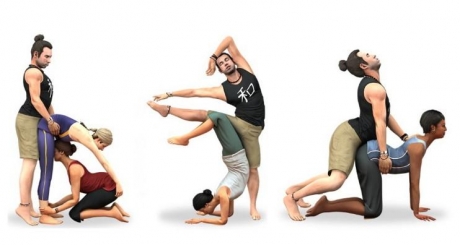 These positions are called: Punching Starfish, the Downward Facing Camel and the Lucky Triangle.
Punching Starfish
A special pose that is both spiritual and mental, practised in the Far East, popularized by the Greeks. It is a pose that requires discipline to be entered slowly, or injury may occur and cause a partner to weep and never attempt the pose again.
Downward Facing Camel
True Namaste is achieved with this pose as the celestial spark within us is free – and the third eye opens to increase the flow of divine love.
Lucky Triangle
This deeply spiritual pose frequently begins with salutations with a potential partner to see if they are interested in stretching their mind and spirits after consuming some. Often requires a safe word.