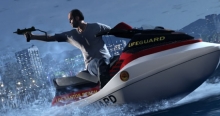 The Micro SMG, also known as the Micro Uzi, is a sub-machine gun found in Grand Theft Auto V. It can be bought from any Ammu-Nation store, but is also acquired during a number of story missions.
The Micro SMG has a 16 round magazine (30 if upgraded with Extended Clip) and fires at a rate of 500 RPM.
It is the only SMG that can be fired whilst driving.