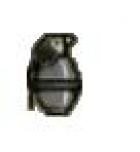 Grenades are thrown weapons found in Grand Theft Auto V.
Grenades can be purchased from Ammu-Nation stores for $120 each. They can also be found hidden in a number of places, including:
Behind the big orange juice stand at Vinewood Hills.
Behind the old gas station in Harmony, Blaine County.
At the end of the wooden pier, north of the Alamo Sea.
Below the beach house at Banham Canyon.