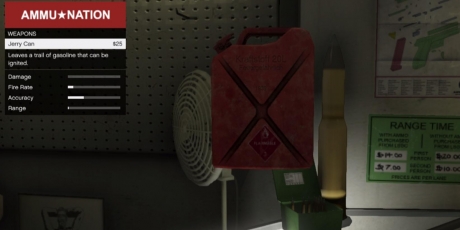 Jerry Cans are items and potential weapons found in Grand Theft Auto V. They contain 100 units of fuel and when set alight the fuel ignites at a rate of 80 RPM.
As well as being able to explode the cans themselves, you can pour the fuel out and create trails of flammable liquid. These trails can be set alight in a number of different ways, even for example by using the backfiring of a sports car.
Jerry Cans can be purchased from Ammu-Nation stores for $25 each, and can be found outside of numerous gas stations.