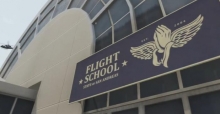 Touch Down challenges you with performing a landing on a country bridge and can be quite tricky on your first few attempts.
To get a bronze medal all you have to do is successfully complete the task. For gold, you have to land max 10 metres from the mark.
The easiest way to do this is with your first attempt. As soon as you're given control of the plane immediately slow it down, to the extent that your propellers aren't even turning and then guide the plane onto the bridge. Make sure to land fairly early on so you have enough time to slow down.