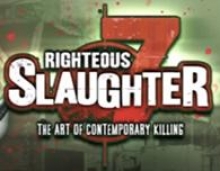 Righteousslaughter7.com is the official website for the video game Righteous Slaughter 7, which is an FPS series in the Grand Theft Auto universe. The website features a trailer for the game.
The series is a parody of various real-world FPS games, such as Battlefield and Call of Duty.
Righteous Slaughter 7 is the sequel to Righteous Slaughter 6, which came out three months earlier.
The game is not actually playable, but characters can be seen playing it themselves on occasion.