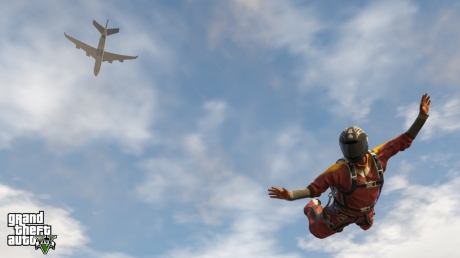 Base Jumping is an activity that is unlocked after completing Risk Assessment. After completing it, there will be 13 jumps that are highlighted on your map. Finishing all 13 is required for 100% completion of the game, as it unlocks the Uncalculated Risk mission for Dom. The jumps will be listed in order, according to the numbers given in-game, on the map.
1) Pacific Tour
This one is located in the La Puerta area of Los Santos. Dom's friend will be waiting with a helicopter, so get inside to begin this jump. This jump is pretty simple, as the boat will be close to where you jump and it's a straight shot. Remember to use precision mode when you get close to the boat, to help with landing on it.
2) Photo Finish
The second jump is located at the Vinewood Racetrack, where a helicopter will be waiting once again. For this one, there will be three checkpoints placed in the air, which will give you a little extra money for passing through them. You don't have to pass through them, but extra money is extra money and they aren't too difficult to get to. The landing target is stationary and don't forget to use precision mode.
3) Turbine Terror
The third jump is located at Ron Alternates Wind Farm. Get in the helicopter and then get ready to jump. This is similar to #2, except there are four checkpoints. The first three are simple enough to get to, but the fourth requires a bit more, since it's close to turbines. After hitting the fourth checkpoint, you'll need to hit the target on the ground, which is stationary, to finish.