Grand Theft Auto V features a small range of melee-based weapons, which are detailed below.
Baseball Bat
Franklin is pictured wielding a wooden baseball bat in artwork released for Grand Theft Auto V, confirming its appearance in the game.
Fists
Naturally you can use your fists to punch people, as you can in all Grand Theft Auto games. It's the most ineffective 'weapon' in the list, but sometimes you just want to get down and dirty.
Hammer
The Hammer returns after being removed in the last few entries, but only for those who purchase the special or collector's edition.
Crowbar
The crowbar makes its series debut in Grand Theft Auto V.
Golf Club
Golf is one of the recreational activities you can partake in, which means you'll be able to wield golf clubs and hopefully whack people around the head with them.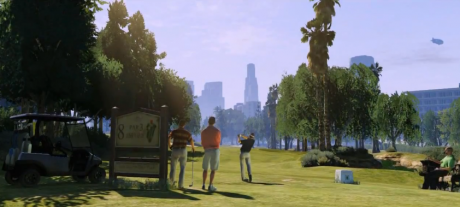 Nightstick
The Nightstick was first spotted on a police officer chasing a criminal in the first trailer for the game and does appear in the game.
Knife
The knife makes its return and can be purchased at any Ammu-Nation store.