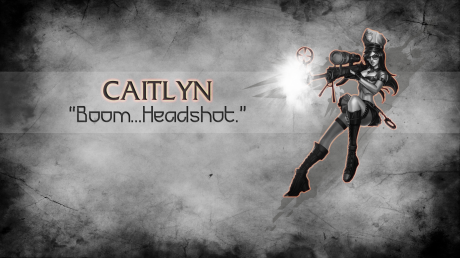 Introduction
"Boom... Headshot."
Caitlyn is a ranged AD champion. She is played as an ADC.
Her piltover and auto-attacks are her main source of damage. Her ultimate is amazing for engaging or picking off (don't ever use while in a teamfight) and her caliber net is great for outplays and crucial escapes!
Pros & Cons
Pros
650 range one of the longest
Q doesn't get stopped by minions and has great range
Can check bushes by placing down Snap Trap
Great escape and slow by using Caliber Net
Her ultimate ability is easy to use, does great damage, and has low cooldown.
Cons
Uses a lot of mana early game
Snap Traps are visible for the opponent
if you miss the Caliber Net it's rather easy to catch up
Ultimate can be blocked by other enemy champions + cancelled when you lose vision. Can also be silenced since it is a channel.
Build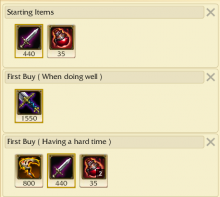 As every ADC starts with Doran Blade and 1 Health potion, so too does she. It gives you that extra health and sustain you need.
On your first buy you want to get a BF sword. If you are having a rough lane, try going forscepter wich builds into your Bloodthirster. When you get the money buy another doran and some health potions.
Mid game you want to rush your Bloodthirster. Start stacking it and you will notice that you have gotten a lot stronger. You can now stay in lane forever because you should have enough lifesteal. Right after this you want to go for Attack Speed, so either a Phantom Dancer or Statikk Shiv. Buy Statikk Shiv when losing, since it costs less.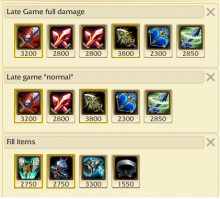 When in late game your build will look like one of the sets in the image on the right. The first build is for when you have a firm tank lane and good peel to keep you safe. The normal way to go is to get 1 defensive item. This item depends on the enemy team. When they have a standard team you go for Guardian Angel, then when you die your team can refocus and you can get back into the fight. When you are having trouble against pokecomps going Banshee is a really good option. When playing against a Fizz or Zed you might want to consider going for a Quicksilver Sashe to get rid of the ult debuff.
Masteries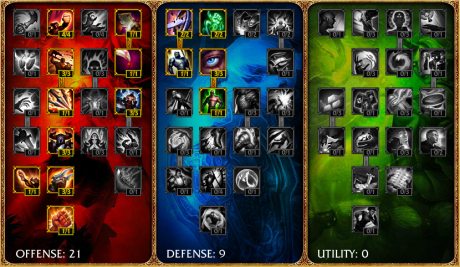 Offense Tree (21 Points)
Fury: ADC's need a lot of attack speed to get auto-attacks off.
Butcher: Will help you farm early on.
Brute Force: More damage.
Feast: Gives sustain early on.
Martial Mastery: More damage.
Executioner: People quickly drop below 50% health, that extra 5% damage might make the difference.
Warlord: 5% extra on your final build is just a nice damage increase.
Frenzy: In combination with your Infinity Edge you will most likely gain 15% AS in teamfights every time.
Devastating Strikes: This will help you shred those tanks that keep going for you.
Havoc: 3% increased total damage.
Defense Tree (9 Points)
Block: When trading with an ADC early level it will be basic attacks that will help you win those trades.
Recovery: Sustain in lane.
Unyielding: Nice bit of damage reduction.
Veteran Scars: 36 extra health is not a lot but it could mean the difference between a kill or a death early game.
Juggernaut: 3% extra health.
Abilities

Passive: Your basic attacks generate 1 stack of headshot (attacks from brush will grant 2 stacks). At 7/6/5 stacks your basic attack will deal bonus damage equal to 50% of her AD (tripled against minions/monsters )
Piltover Peacemaker: After a 1 second cast, you will fire a projectile that deals damage to all targets it passes through. Each hit after the first takes 10% less damage, down to a minimum of 50%.
Yordle Snap Trap: Set a trap at the target location that arms after a brief delay. Enemies that detonate the trap become rooted and take magic damage. The trap then also grants true sight of the target for 9 seconds.
Note: maximum of 3 traps, each one last for 4 minutes. When you place more than 3 traps the oldest one will deactivate.
90 Caliber Net: You fire a net, knocking back 400 units in the opposite direction. The net deals magic damage + slows the first enemy hit by 50%
Ace in the Hole: Caitlyn locks onto a target enemy champion and channels for 1 second. If you complete the cast you fire a high speed homing projectile toward the target that deals damage to the first enemy champion it hits.
Gameplay Tips
Snap Trap is used as a ward early on. Place them in brushes to zone the enemy support away. You can also place them in lane - place them at the enemy caster's minions so whenever the enemy ADC wants to last hit he also has to walk around the trap or take alot of damage.
You don't want to use Piltover Peacemaker just to farm. It costs way too much mana to cast. Only use it to poke or push out the lane. When fighting remember to stay back - you are an ADC with longer range than most ADC's. When you cast Piltover Peacemaker make sure you hit multiple people. It scales down the more people you hit but it will still do a lot of damage.
Your front line won't be able to hold them back all the time that's why you have 90 Caliber Net. The current Meta is assasins, so make sure you DO NOT WASTE this. Caitlyn isn't very popular just because of this reason - she is a rather slow champion but makes up for it with range. Therefore positioning is everything.
The damage done by Ace in the Hole is great; you can use it to pick off people that are low.
You can also use it to engage a fight, if you see the enemy ADC or APC and you know you have a clear shot take it.
Late game your ult can bring an ADC or APC to half health, which forces them to back or just get engaged upon. Don't ever use Ace in the Hole while the enemy is close - you are too fragile to stand still for 1 second. Always start or finish with it.
I wouldn't pick caitlyn in the current meta. The only reason why you would is to counter an enemy vayne with your long range.