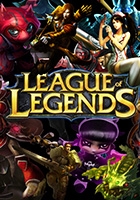 League of Legends is a team-based multiplayer online battle arena game (MOBA), developed and published by Riot Games for Microsoft Windows and Mac OS. It is inspired by the Defense of the Ancients mod for Warcraft III: The Frozen Throne. Officially released worldwide on October 27, 2009, it is considered one of the most popular online games in the world.
League of Legends Brainwaves
17 days ago, 0 replies

In the Philippines a bill has just passed the hearing committee stage that will effectively ban computer...

2nd July, 0 replies

Riot Games have taken the decision to close the League of Legends public chat room, the company stated...

14th February, 0 replies

Popular MOBA and e-Sports sensation League of Legends is set to add a new 6 vs 6 mode called "Hexakill"...
Share League of Legends with others