Attention
Please note that this section is only an in-depth item and skill build guide and game play strategy for Jax. Readers should have an understanding of Jax's skills before continuing and readers looking for a basic overview, including lore, skills, skins, and stats should refer to here.
Also please take into consideration that champions can be played in any fashion and any build. The item build outlined below is just a guide to build Jax in the most efficient method.
Overview
| | |
| --- | --- |
| | Jax is a melee champion that can be played as a top laner or jungler. He deals high amounts of both physical and magical damage, while having strong resistance stats. Jax cannot trade damage well until he hits Level 6, where he reaches his peak. This is because he lacks poke, has no built in sustain, and lacks the massive power spike his ultimate brings. |
Skills
Skills should be maxed in the order below. There are no alternatives or situations that should change the order. Your first point should be put in to Counter Strike (E) as it allows crowd control to escape from early fights, as well as the majority of level 1 damage coming from auto attacks. Your second point should be placed into Leap Strike (Q) for escapes. It also deals a high base damage compared to the early levels of Empower (W).

| | |
| --- | --- |
| Grand Masters Might (R) | With all champions, a point should be put into your ultimate whenever avalible. |
| Empower (W) | Not only does this empower your next auto-attack, it is also applied to your next Leap Strike (Q). Maxing W first allows you to deal the most damage, as it has a short cool down, resets your auto attack*, and can be combined with the passive from Grand Masters Might (R) and Leap Strike (Q) for high burst damage. |
| Leap Strike (Q) | Leap strike should be used for escapes and engaging duels. It is maxed second as Empower (W) will add its damage to Leap Strike. This should not be used to engage team fights. |
| Counter Strike (E) | Counter Strike is maxed last as it is a high cool down skill at early and later ranks. It is a utility skill that deals low damage and can usually only be used once or twice in fights. Although this skill is amazing, it's lack of damage and high cool down makes it maxed last. |
Runes, Masteries and Summoner Spells
Before we get into items, runes and masteries are important. They greatly impact the early game before items play a role.
Masteries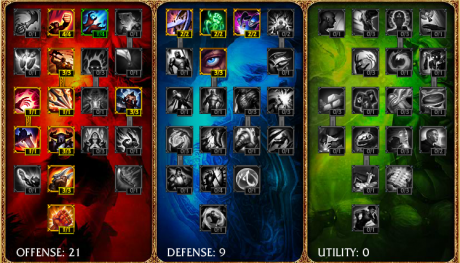 21/9/0 masteries (pictured above) allows Jax to have a mixture of offensiveness and defense.
21 points in the offensive tree helps last hitting in the early game, as well as late game damage scaling.
9 Points in Defense allows Jax to have a more bulky early game.
Runes

| | |
| --- | --- |
| Mark of Attack Damage | These help with last hitting and early game trading. They are like a free Long Sword before the game has even started. |
| Seal of Armor | In total, they give you +9 Armor, which greatly increase your early game bulkiness. This along with the fact that a majority of top laners are AD bruisers make them optimal. |
| Glyph of Scaling Magic Resistance | In general, most champions have a low Magic Resist per Level. This helps you scale better in to the late game as from these runes, you have +54 MR at level 18. |
| Quintessence of Life Steal | Due to a lack of a built in sustain, over time these help you heal in lane. |
Summoner Spells
Listed below are summoner spells that can be run on Jax. Those not listed are not optimal and should not be used.
| | |
| --- | --- |
| | Flash allows for quick get aways or closing distances. Flash should always be run on Jax in order to close gaps or get out of certain scenarios. It has no target and can be used in situations where Leap Strike (Q) can't. |
| | Teleport has been seeing play a lot more recently. It allows you to stop ganks or turn a gank around in your favor. It also allows you to pressure areas of the map while still being able to join your team for fights. |
| | Ignite is a strong spell overall. It allows for stronger dueling potential as well as countering heal-heavy champions, such as Aatrox or Volibear. |
| | Although it can severely cripple a champion, it is not optimal to run on Jax. Exhaust is mainly used to counter assassins and AD Carries. However, similar effects to this spell can be achieved with items, all a part of Jax's main core build. |
| | Smite should be only and always be run when jungling. It allows for faster clear speeds as well as securing buffs and neutral monster objectives. |
Item Builds
Starting Items
| | |
| --- | --- |
| Crystaline Flask, Health Pot (1), and Yellow Trinket | |
Jax has a very weak early game compared to most other champions. He is also extremely dependent on items to be able to fufil his role. For this reason, until level 6, your main priority should be farming and avoid feeding your lane. Crystaline Flash and a red pot help make up for Jax's lack of built-in sustain for the early game, until you get your first core offensive item, Blade of the Ruined King.
Core Offensive Items
Blade of the Ruined King and

Trinity Force
Blade of the Ruined King is amazing on Jax. Its active helps you stick onto targets better and heal you. The life steal helps make up for the lack of sustain, attack speed to proc your ultimate faster, and an amazing passive that can shred tanks as well as normal targets that can work wonders with your passive. The Trinity Force is also a must buy for Jax. Due to being a mixed attacker, it greatly enhances all of your abilities. The sheen proc also adds extra burst to your W.
Core Defensive Items
| | |
| --- | --- |
| Randuins Omen, Spirit Visage, Guardian Angel | |
Randuin Omen is a great item to massively increase bulkiness. This helps you survive in fights, as well as helps you kill the ADC better with its passive and active effects. Spirit Visage is also a great item. Due to Jax's lack of sustain, this helps by pumping up your life steal, HP/5, as well as granting you magic resistance, cooldown reduction, and HP. Remember the more HP you have, the better resistances are, and vice versa. This is why both Randuins and Spirite Visage are great picks. They grant you defensive stats as well as HP. A final buy should include a Guardian Angel, as it should be your last item. By this point, you should be well into the late game and an extra life can be decisive.
Core Build
| | |
| --- | --- |
| Mercury Treads, Blade of Ruined King, Trinity Force, Randuins Omen, Spirit Visage, Guardian Angel | |
The only item not mentioned is Mercury Treads. Tenacity can mean life or death when you are crowd controled. They can also help you get that kill faster.
Situational Offensive
| | |
| --- | --- |
| Iceborn Gauntlet, Guinsoo's Rage Blade, Hextech Gunblade | |
Iceborn Gauntlet should only be built when they are an extremely mobile team or you are behind and need extra armor. This should not be built with a Trinity Force as their sheen proc only actives once and does not stack. Guinsoo's Rage Blade should only be built when you are ahead or your team has multiple tanks. This adds a massive increase to Jax's damage output. If so desired, this item can replace Guardian Angel once it is on cool down. Gunblade although a great hybrid item should also only be built when facing a heavy sustain champion, such as Vladimir. It grants spell vamp and life steal, which work wonders with Spirit Visage.
Situational Defensive
| | |
| --- | --- |
| Thornmail, Banshees Veil, Ninja Tabi | |
Facing multiple auto attack heavy champions or a heavy AD team? Pick up a Thornmail and Ninja Tabi to negate the damage by swapping it out with the other defensive items as needed. If they are a heavy poke comp or have a strong engage, such as Vi/Malphite ultimate, pick up a Banshees Veil to negate.
Tips and General Gameplay
Tips
Avoid dueling until level 6.
Your Q can be used on ally minions, champions, or wards.
Do not use E to stun engage in lane unless you are receiving a gank. It should be used while dueling to maximize its damage and minimize your own.
Building AD and AP increases your bulkiness too with Grand Masters Might. Grand Masters Might can be used to change the tide.
Once level 6, hit a minion twice and W an enemy for a surprising amount of burst.
Jax is a strong single target fighter and he has a decent team fight, although it is not the best.
Your passive, along with W, can be used to take down turrets adequately fast.
Laning Phase
As mentioned above, play passively until level 6. Your main priority for the laning phase should be farming, as Jax needs items to scale well into the mid-late game. He has a semi-weak early game compared to other champions and cannot trade well. Once level 6, Jax can duel almost any other champions 1-on-1 that are equal leveling and items with him.
If your opponent tries to initiate a fight, activate your E to negate his auto-attack damage and then return the damage after he is stunned. You do not want to be shoved out of early, so try and equalize the damage dealt. Once you have taken the turret or it is around 20 minutes, begin grouping with your team to take objectives. By this point in the game, you should at least have your Blade of the Ruined King.
If you are being ganked, always check your map to see the position of your jungler. If he is near and your 2 v 2 composition is better, try and bait it and fight. If not, you have a few options.
Leap strike to a minion away
Drop a A Ward and Leap Strike to it
Flash
Your ultimate can also play a great role on survivability. The armor and magic resistance it grants can greatly reduce the damage taken. Also be sure to use your E properly to stun them.
Team Fights
Jax plays an assassin type role. He jumps on the enemy carries in the back line by flanking. If you walk through the opposing team's frontline, by the time you reach their carries, they will easily be able to clean you up. Use your E wisely in teamfights. It can greatly be used to counter a tremendous amount of damage from the enemy ADC.
Once a team fight begins, wait before entering. Q onto the enemy ADC and then use your E. If the enemy carry lacks damage or you are strong enough to burst them relatively quick, feel free to Q - E combo for an instant stun. You should not save your ultimate. Although it grants you a decent amount of armor and magic resistance, it will play a huge role in helping your survival in team fights.
Conclusion
Hopefully this gave you a better understanding of Jax. Remeber though, to really understand how his kit works the best, you have to play him against all different types of match ups.