The battlegrounds where you fight against other players are called Fields of Justice. Each Field offers a different gameplay experience.
Summoner's Rift (5v5)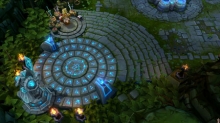 This is the first and most popular battleground in the game. Battles start with 2 teams of 5 players. Each team starts on one corner of the secondary diagonal of the map. The abases are linked with 3 lanes (top, mid and bottom), each featuring 3 automatic defensive turrets for each team. Between these paths, there are two jungles filled with monsters. Killing them rewards gold, experience and some of them will temporarily boost your offensive and defensive abilities.
The Twisted Treeline (3v3)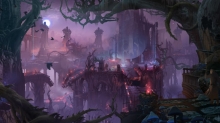 This Field of Justice is the second battleground added to League of Legends and features a 3v3 encounter between the blue and the purple team. As a smaller version of the Summoner's Rift, this map has 2 bases positioned on the opposite parts of the horizontal ax, united through 2 lanes, each containing turrets and bushes. Between the lanes there is a jungle where you'll find neutral units and 2 altars. Capturing an altar will award your team with bonus gold and temporary improved stats. Having both altars under control will give you even greater bonuses. On the top area, there is a powerful monster named Vilemaw. Defeating it grants bonus gold along with a team-wide buff to attack speed, cooldown reduction, health and mana regeneration.
Howling Abyss (1v1 to 5v5)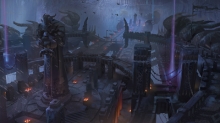 This map features only 1 lane between the diagonally positioned bases. There are 2 turrets, an inhibitor and another pair of turrets defending the base for each team. Leaving the base will lock access to healing and shop. You can only purchase items once you die, before leaving the base. A unique feature on this map is the presence of Relics. Picking up a Relic will heal your champion and restore mana. They must respawn before you can pick them up again.
Crystal Scar (5v5)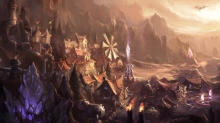 The Crystal Scar is the only map where you can play the Dominion game mode. There are two teams of five players who must capture and hold control points in order to gradually damage the enemy base and ultimately draining all the HP from it.
The path on this Field of Justice is circular. It contains 5 control points, 2 bases and the jungle inside the circle. There are buffs which can be picked up which offer champions bonus stats: health relics, speed shrines and storm shields.
Holding a Control Point under possession will slowly damage your enemy's HP. The more you control, the faster your enemy will lose HP. To capture a point, you must move your champion in range and channel. You cannot take any actions while capturing and if you are damaged, you will be interrupted and will have to wait before trying again.