League of Legends is a multiplayer online battle arena (MOBA) game where you team up with other players to destroy the enemy team's Nexus.
★ Getting Started
As soon as you've downloaded, installed and created an account on the League of Legends site, you will come across a login screen. Enter your details and you will be welcomed by a single interface.
Interface
The top panel of your launcher contains the "Play" button and information about your Summoner (account). To start a match, click the "Play" button and you will be prompted to select a game mode. The information panel shows your profile picture, name, currency,level and links to other areas like Store, Account, Lore and Support.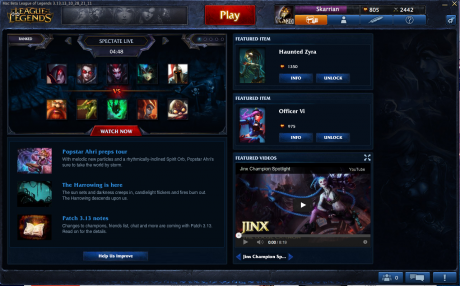 The main area of the screen presents all the news, offers on the homepage and content like stats, lore info and store items for other areas.
On the bottom of the screen you will have all the social interactions: friends list, chats, game invites, etc.
★ General

Players are formed into two teams of five Champions (three on the Twisted Treeline map). There are more than 120 different Champions from which to choose.
Each player begins at opposing sides of a map near a building called a Nexus. A match is won when either team's Nexus is destroyed. To destroy a Nexus, each team must work through a series of Turrets placed along a path to each base referred to as a Lane. Along the way, each player gains levels from killing the opposing team's Champions and Minions (non-player characters (NPCs) that regularly spawn and attack the other team) and defeating neutral monsters. Completing objectives rewards players with gold which is used to purchase items, making their Champion stronger.
Game Modes

There are five general game types: Tutorial, Custom, Co-Op vs. AI, Normal or Ranked. However, even within each type, there are many options available. It's up to your current skill level and preference.
Click here to learn more about Game Modes.
Fields of Justice

The battlegrounds where you fight against other players are called Fields of Justice. Each field is different and offers a different gameplay. There are 4 playable areas: Summoner's Rift, The Twisted Treeline, Howling Abyss and Crystal Scar.
Click here to learn more about Fields of Justice.
★ Summoners
In League of Legends, you are referred to as a Summoner. It represents your account and its level, champions, spells, runes and any other global stuff (choices that affect more than a single match). Each Summoner has a profile picture, name, level, currency points, runes, spells and owned champions.
Leveling
Finishing a game will award you experience points (XP). Gathering a required pool of experience will increase your level. Each level is harder to reach and demands more XP than the previous ones.
Higher levels will unlock more rune slots, summoner abilities and special game features like Ranked Matches and ARAM (all random all mid) games.
Currency
Every time you finish a match, you will receive a certain amount of Influence Points (IP). Winning will give you more while losing will give you less. You can use premium boosters to enhance the amount of received points but they cost Riot Points (premium currency purchased with real money). The first game you win every day will award a bonus of 150 Influence Points.
You can use the Influence Points to purchase new playable champions or runes.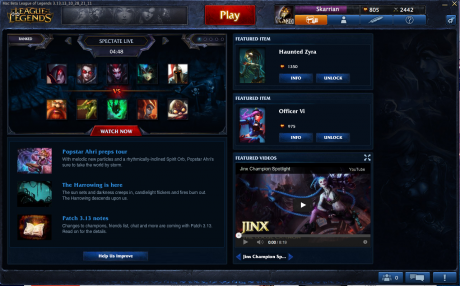 Riot Points can be used to purchase champions, skins for them, boosters and other premium content or services. Every champion can also be purchased with Influence Points (IP) but if you prefer the faster alternative, you can also spend Riot Points (RP).
Click here to learn more about Summoners.
★ Champions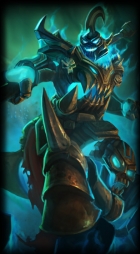 Champions are characters that summoners use within each match. Before starting a match, players can pick one of the free or owned champions that they will use in-game. Each has its own abilities and tactics.
Click here for a complete list of Champions.
Items
When playing a match, your champion can purchase items from the shop that will boost its offensive, defensive, movement speed or other stats. You can also purchase consumable items which restore or temporarily boost your stats.