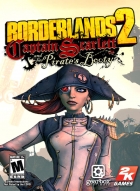 Captain Scarlett and her Pirate Booty is the first DLC part of the Season pass for Borderlands 2 and the first campaign based DLC. The journey starts out in a new town called Oasis and the main story revolves around the quest for the treasure of the legendary Captain Blade. It was described by Randy Pitchford of Gearbox as "It feels more like Tatooine than an ocean" which is interesting because the sands of Tattoine have been characterized by their almost waterlike sand dunes. For the truly geeky among us, yes that does look like a Sand Skiff in those pictures below.
The DLC is slated for an October 16, 2012 release in the states for 800 MSP on the XBox Marketplace or $9.99 on PSN or PC.
Be sure to check out the Gamewise Walkthrough and see what's been burried away as hidden easter eggs. If you have any questions, be sure to post them on our Discussion Page.
FEATURES
A new area called "Oasis," which is a considered a dried up landscape riddled with Bandits. Oasis is a large section of Pandora consisting of at least two smaller sections. Each of these areas is at least the size of The Dust but far more densely pacted. There are many new bandit camps, at least two new quest hubs, and at least one underground cave/dungeon.
A new vehicle called the Sand Skiff.
A new form of currency called Seraph Crystals, as well as a new higher rarity for weapons and equipment, called Seraph (pink lettering).
Four new bosses; Captain Scarlett, The Leviathan, Master Gee the Invincible and Hyperius the Invincible. One of these bosses can only be farmed once per day.
Every character gets a new head that they can unlock.
Three new achievements/trophies.