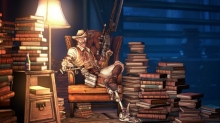 Sir Hammerlock's Big Game Adventure is the next DLC for Borderlands 2 and is set for release on January 15, 2013. The DLC is set after the plot of the main game and brings you to a new continent of Pandora in search of new creatures to hunt. During your time there, you'll meet up with a crazy man who wants to help Handsome Jack and you'll have to stop them.
A large new continent to explore
A whole bunch of new creatures to hunt
New humanoid enemies including the all new tribal warriors
New enemy morphing mechanic that allows Shamans to enhance their warriors
More end game content (level 30 requirement to begin the DLC).
More chances for Seraph Crystals.
A new boat vehicle that can be found at the "Catch-A-Boat" station.
Unfortunately, Gearbox has already confirmed that the level cap for this DLC will not be raised. They have said that the level cap will be raised very soon which may indicate that while it won't be during this DLC, it may be a patch before the next DLC.