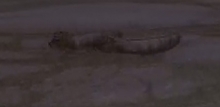 The Sand Worm grub is the only version of the Sand Worm that is drastically different than the others. It does not burrow or use long range spitting attacks but instead it slithers across the ground and attacks at close range.
Individually, they are incredibly weak, requiring usually just a single hit to be killed and doing a small amount of damage. Due to their small size, however, it can be extremely hard to notice them against the similarly colored sands of the area and they always come at you in a group.
The only known instance of these enemies comes from the Sand Worm Queen. She makes a motion similar to her spitting attack but spits out the grubs instead.