There are many different enemies that the player will encounter when playing through the Captain Scarlett DLC, such as Pirates and Sand Worms. While those make up the majority of the enemies you will fight, there are others as well.
PIRATES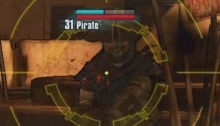 Pirates replace the Bandits from the main game of Borderlands 2 and appear strictly in the areas pertaining to the Captain Scarlett DLC. There are a lot of similarities between the two types of enemies with many of them being so similar as to act almost like a reskinned version of certain bandits.
There are a few different enemies however such as the Cursed Pirate which starts with half health but can drain your health when they damage you or the Buccaneer which is similar to a Goliath in size but attacks at close range with two swords that they can use to reflect bullets.
SAND WORMS

The Sand Worms are large creatures that burrow under the sand and then surface to attack. While you don't see most of their bodies, it is assumed that the rest of their body is cylindrical.
The Sand Worms will errupt out of the sand and proceed to either bite or spit acid to fend you off. They have a surprising amount of health but their attacks are not particularly dangerous on their own. However, Sand Worms tend travel in packs and when encountered in a group, it can become difficult to dodge their attacks and the damage of their combined attacks becomes devestating.