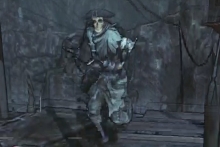 Don't be fooled by the Cursed Pirate's half bar of health, he's not just dangerous but he's also considered a Badass class enemy. The reason for this is because of the few special abilities that he has.
The Cursed Pirate is strictly a close range enemy but he can move pretty fast by most standards. When he finally gets close, he'll attack with an overhead swing that causes a small invisible shockwave around him. This can be extremely damaging and whenever the Cursed Pirate deals damage, he absorbs some of it. When you pair the two abilities together, he can be dangerous to an individual and absolutely devestating if you and your friends stand too close together.
Ironically, one of the best ways to deal with the Cursed Pirate is to go into "Fight for your Life". Once you are downed like this, he can't do any additional damage and so he absorbs no life. Since he is a melee class enemy, he will basically stand right on top of you and continue to swing away giving you a clear shot and allowing you to take down that half bar of health quite quickly.
Otherwise, the best thing you can do is stay as far away from him as possible. In fact, it might be better to sprint away from him in between shots.