This mission can start any time after visiting the Tundra Express during "A Train to Catch". It's a great mission to do before finishing A Train to Catch because you will have Mordecai hitting enemies with Slag rounds for you.
XP: 2730
Money: $98
Gear: Choice of Weapon
You'll find a man wandering around the area with the title "Tundra Patrol". He can take a decent amount of damage but he's alone and his weapons aren't anything of note. Make use of nearby stones for cover if you need to. Just make sure that you aren't near any other enemies when you start fighting and you shouldn't have any problems with him.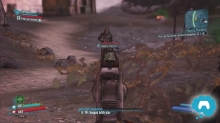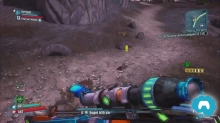 After you've killed him, he will drop an ECHO device on the ground. Pick it up and listen to it. He will invite you to take his loot from his chest because you are such a badass. Follow the waypoint on the map to his house and watch the lift rise up. The lift will bring a chest up. Open it and then run away. Dynamite will go off and a few Psychos and Marauders will appear. There's plenty of room around here to backpeddle and lots of rocks for cover. Kill them and then loot the chest to complete the mission!