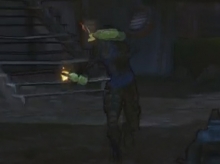 The Grogmaster is rather similar to the Suicide Psycho from the main game. Similar to the Suicide Psycho, he will run up to you with explosives and then attempt to set them off.
The Grogmaster is slightly different in that he carries Molotov Cocktails instead of grenades. The initial damage isn't as devestating but it has a chance to catch you on fire and leaves flames around on the ground that can do the same. because of the size of cocktails and how well their color stands out, it is possible to shot the cocktails and kill the Grogmaster before he makes it to you, ending the battle quickly.
One of the most profound differences is that when you kill one, their cocktails disappear rather than tumbling to the ground and going off.