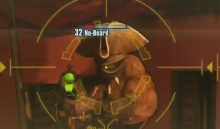 During the mission "A Warm Welcome", you'll have to fight through a group of pirates and then be faced with your first boss, No-Beard.
No-Beard is going to be about your level and despite being the first boss in the Captain Scarlett DLC, it would serve you to be careful around him. He comes equipped with a slow firing Assault Rifle that may fire corrosive rounds. While the gun can be damaging, he's also capable of rushing at you for some devestating melee attacks. It is pretty important to watch out for this attack and be ready to jump out of the way.
The best method for dealing with No-Beard is to get behind cover and fight at range until he closes in on you. When he does, find a new piece of cover and fight from there. After a little bit of time, he should go down.