Claptrap has had his eye stolen! You have a single gun, a full clip and a whole lot of determination. Let's get that eye back. This mission started immediately after "My First Gun".
| | Normal | True Vault Hunter |
| --- | --- | --- |
| Level: | 1 | 33 |
| Money: | 10 | 378 |
| XP: | 53 | 3,082 |
| Gear: | - | - |
Follow Claptrap outside and make sure you loot all the yellow chests here. He'll lead you out into a frozen valley. There will be more yellow chests throughout the valley as well as some large chunks of ice which can be destroyed for more loot!
After following Claptrap a little ways, you'll be attacked by a group of five Monglets. They don't have a lot of health and should fall after only a handful of shots. The Monglets can use their powerful arms to throw objects at you or to move sideways to avoid your shots. This will be important for later when you fight tougher versions of the Bullymong.
Eventually, Claptrap will lead you to the Frostbite Crevasse. The Frostbite Crevasse is a dangerous Bullymong nest so be sure to watch all around you for monglets emerging from the ground. Almost immediately after entering the Crevasse, you will fall into a large crater and Claptrap will get stuck in some snow. You'll have to defend him from five Monglets and a Brat Bullymong.
The regular Monglets will come straight at you out of the holes in the ground ahead. You have a lot of room between them and you to take them down. After you take them down, a Brat Bullymong will attack. With how much distance you have, he may not seem like much of a threat but if you let your guard down, he can do some serious damage. He is capable of throwing objects and making very large leaps to close the distance quick. It only takes a split second for one of these to be on top of you so try to keep your distance and make your shots count.
Once the area is secure, look behind you to find Claptrap. Free him from the snow and then follow him up a ramp.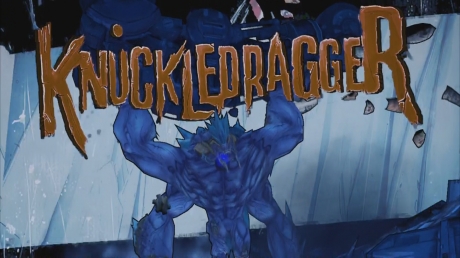 Knuckledragger is a very large Bullymong boss. He's got quite a bit of health, he's very fast and throws large ice rocks at you. Try to keep moving and avoid objects on the ground that might hinder your ability to dodge. As you're dodging, make sure that you are firing. You want to aim for his head to get some critical damage. If you start running low on health, drop off the cliff to the lower level (where Claptrap was stuck in the snow) and some of the yellow chests down here should have or had health in them. Be careful, however, because the enemy can follow you down here.
After you've done a significant amount of damage (about 75%), Knuckledragger will jump way up on top of what looks like the remains of a ship. At this point Claptrap will warn you about Monglets and Bullymongs that are coming out of the walls. About four of them will attack you at this point. If you have him nearly dead, you can try and go for the finish but it may not be possible to kill him while he's up there so the safer bet is going to be to deal with the Monglets first.
Finding Sir Hammerlock
After you've dealt with Knuckledragger and the Monglets, collect Claptrap's eye from the body and then take off to find Sir Hammerlock. To get there, follow Claptrap up to the Cargo Ship door.