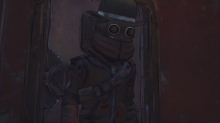 Sandman is the leader of a Pirate group stationed in Hayter's Folly just north of Oasis. He is actually a Midget type enemy and he'll be covered in dark clothing, making him surprisingly difficult to see in the cave that you find him in.
As the leader of a Pirate gang, the fight with him involves numerous other enemies from simple Rapscallions up to Buccaneers and also includes a secondary boss called Big Sleep. Big Sleep will likely be your first target. He'll get up close and try to smash you with his giant anchor weapons. At first, he'll try to hit you with them like clubs but he can also whip them at you long range similarly to the blades from God of War.
After getting rid of most of the smaller enemies, go after Sandman. Sandman on his own isn't particularly dangerous. He'll be carrying an SMG or assault rifle but because of his short stature, putting any type of obstacle in the way will prevent him from shooting you. Just keep weaving in between boxes and shoot him when you get the chance to take him out.