This mission isn't handed out so much as discovered. If you leave Liar's Berg through the gate down to the water and turn right, you'll find a sort of fort city filled with Bandits. Inside the city will be an Audio Log sitting in the snow (with an exclamation mark above it). Picking this up will "start" the mission.
| | Normal | True Vault Hunter |
| --- | --- | --- |
| Level: | 3 | 35 |
| Money: | 63 | 2,375 |
| XP: | 80 | 5,184 |
| Gear: | Pistol | Pistol |
From there, you must collect a number of other audio logs to finish the mission and report to Sir Hammerlock.
To find each item, follow your map to the marked area and then use the images below to find specifically where they are.
Mission Start
To find the first recorder, head towards the previously mentioned fort city. You'll find the Audio Recording Log in the snow as you approach the city.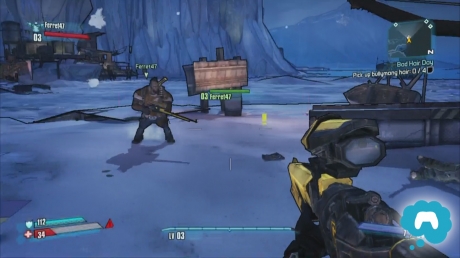 Audio Log 1
The first audio log you must find is in a dumpster behind Sir Hammerlock's house. There will be a large fence to hop over and then on the other side will be the dumpster. You will have to smash the lock to open it (watch out for the Rakk that fly out). You'll find the log inside.
Audio Log 2
The second log is actually on top of Sir Hammerlock's house. If you go behind it, there will be a ladder leading up to the roof. Circle the roof and you should find a block of ice that you can smash. Inside the block of ice will be this recording.
Audio Log 3
The final Audio Log is going to be next to a building in an ice box. Follow the marker on your map to find the building and on one side of it will be the ice box, glowing green. Open the ice box to find it. Bring them over to Sir Hammerlock to complete the mission.