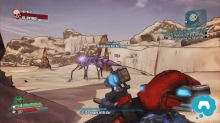 Madame Von Bartlesby is a boss during the mission "You are Cordially Invited: Party Prep". During the mission, you must kill her to rescue Sir Reginald so that he may attend Tiny Tina's Party.
She is tough and has the normal Varkid array of attacks including devestating Melee attacks. When hovering she will use ranged attacks but these will be a little different than you are used to. She will shoot Varkid Larvae at you. These travel a little slower than the normal corrosive spit that Varkids normally use but she shoots many of them in quick succession, they are capable of homing in, and may explode when they hit you. Thankfully, you can shoot them out of the air and if you are playing as Axton,stand near your turret to have the turret take them out for you.
After you get used to shooting at the smaller Varkid projectiles, the best time to attack is when she's in the air. Alternate between killing projectiles and thenpeppering her with bullets. Since she is not armored, it is best to use Fire weapons during this encounter. Keep on the move and take out the projectiles and you should have her down in no time.