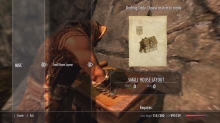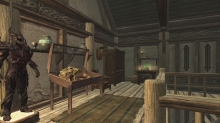 Each home in Hearthfire allows for 5 expansions of the building itself as well as many outdoor additions. After the basic structural points are established (the house, entry way, and cellar), you can build up to three wings on the house. Before you build them, you are given nine different options and three options for each wing. You are not allowed to build two of any one wing but all options are presented so you can plan how you want to build your house. Some of them serve a purpose (though usually it can be duplicated in the main hall), others serve your vanity (like a trophy room), and still others are simply decoration (such as the library).
Building your home, the expansions, and the objects that go in them requires you to collect various materials like Clay, Quarried Stone, Sawn Wood, Iron, and Corundum ingots. For the most part, the metals will be used to make things like nails and hinges on the anvil while the others are used more directly in building walls. You may also find need of Straw and Glass which can be picked up at general stores or you may need things like horns to use for torches or pelts to decorate. Please visit the materials page for more information on finding them.
To fully build a house (not including crafting areas or furniture) requires around 50 clay, 100 stone, 80 sawn wood, 30 iron ingots and 10 Corundum ingots though you may want to round up just in case.