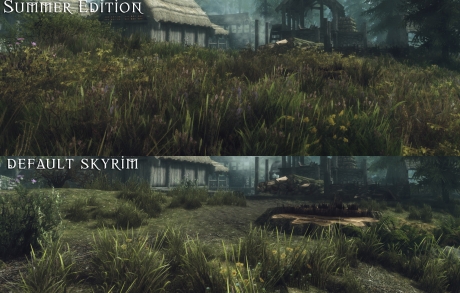 This modification for Skyrim created by vurt can be downloaded from this page on Skyrim Nexus and installation instructions can be found on the same page.
The default flora and fauna in Skyrim by Bethesda is good but this mod makes it even better. Two different versions of the SFO(Skyrim Flora Overhaul) mod are available:
Skyrim Flora Overhaul Regular Edition
Skyrim Flora Overhaul Summer Edition
The Regular Edition just improves the flora while the Summer Edition also replaces the default Red/Brown/Yellow colors of the Fall forests, Tundra and Whiterun with Green.
Special Installation Note:-
To make the mod work, the following steps are also necessary after finishing the installation of mod files:
Locate skyrim.ini file in User\My Documents\My Games\Skyrim and open it with notepad.
Press Ctrl + F and search for "[grass]". If there is no [grass] then manually add it.
Copy "MaxGrassTypesPerTexure=6" without the quotes and paste it below the [grass] section.
Make sure to copy it from above and not spell it wrong. It is supposed to be spelled "Texure" and not "Texture" so it is recommended to just copy/paste from above instead of writing it manually to avoid any mistake.