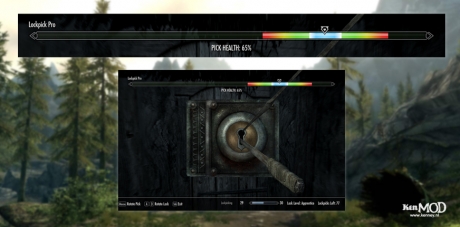 KenMOD - Lockpick Pro made by Kenney can be downloaded from Skyrim Nexus.
If you're one of the players who are tired of the same old lockpicking then this mod is for you. The mod adds a bar at the top showing the sweet spot of the lock as well as the health of the lockpick remaining before it breaks.
The Mod gets updated with fixes or new features from time to time. The latest version of KenMOD - Lockpick Pro with step by step installation instructions can be found at mod page on Skyrim Nexus.