At this point you'll have to talk to Jarl up stairs but after you are done with that, head to the waypoint to join the guards. After the rallying speech, follow Irileth to the Western Watch Tower. When you get there, you'll be told to search the ruins for survivors. Go around the right side of the Tower and try to walk up the ramp there. You'll find a survivor. Talk to him and he'll say something about it coming back.
Your first dragon isn't terribly difficult but he does have a lot of health. Bow seemed to work really well for me. If you find you aren't taking a whole lot of damage you should definitely feel free to use a spell or two also but the bow did a surprising amount of damage. If you are lucky, the dragon might target Irileth and stand still for you, allowing you to just shoot away at it. Dragons are a mini test of endurance so take your time and avoid taking damage whenever you can. Eventually you will take it down.As a rule of thumb, the first thing you want to do when you come across a dragon (aside from deciding whether to run or fight) is to find cover. Sometimes you'll only be able to find a small crevice in a rock wall but as long as you have something you can put between you and it both when it flies over head and when it lands then you should be safe. Keep in mind that it won't be able to land in smaller spots which is way a small crevice in a wall can work if you know where he's going to land.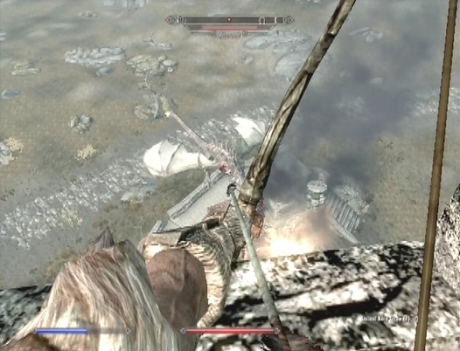 In this case, you have a rather large tower that's perfect. Take your bow to the top of the tower and watch him fly overhead. Any time he flies over you, try to get back down the stairs because he may be doing a strafing run. If you catch on fire, immediately heal before it can kill you. Once he flies away, come out and wait for him to land, then stand near the edge and fire down at him. Just watch for him looking up at you because, despite being so far away, his breathe can still reach you up here. After you do a significant amount of damage, he will land and won't fly away again. Just pound on him until he is dead. Once he is dead, go collect your prize.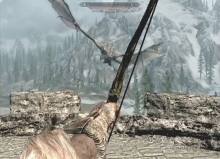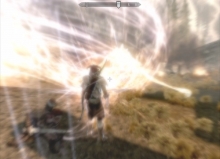 Once it's dead, you'll automatically absorb its soul. Make sure to collect the Dragon Scales and Bones, they are rather valuable (and heavy). You'll be instructed to use a shout so go to your magic menu and equip the spell. It won't take up one of your hands as it acts more like a third weapon. After the soldiers talk about that some, you'll head back into town and talk to the Jarl. He'll give you an axe, a title, and a companion called Lydia. She can follow you wherever you like. From here, you must set out to find the Greybeards. Have her tag along if you like, stock up or drop loot if you need to and then head out of Whiterun.