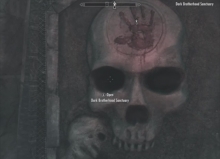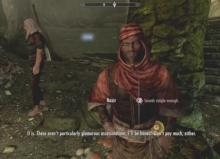 This quest simply requires that you speak to Nazir to pick up some contracts.

Kill NarfiThis is your first contract. Travel to Ivarstead and travel to the island to kill him in the burnt out house. Since he is alone, you can kill him however you please.
Kill Beitild

Travel to her waypoint and you'll find she works in the mine during the day with many others. Depending on your skills, you can sneak up and kill her at night or you can tell her that you're from the Dark Brotherhood and she will attack you, allowing you to kill her in public with no repurcussions.

Kill Ennodius PapiusTravel to Anga's Mill and walk to the nearby camp. Since your target is pretty far from any other people, you can simply kill himwithout being noticed.