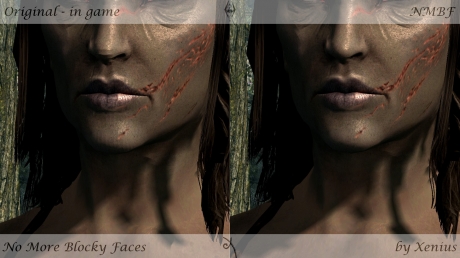 This mod created by Xenius can be downloaded from Skyrim Nexus.
Every Skyrim player have noticed the blocky faces of their characters or other NPC's while playing the game. This mod fixes those blocky faces and make them appear as they should.
The different with this mod installed and not installed can be seen in the image above. One can tell the difference between the two by paying attention to the lower chin part and the lower nose part.
Generally this mod should be a must have as the chances of players to notice the blocky face while playing Skyrim is almost 84% . This mod fixes the blocky faces on all the characters of the following races:
Imperial
Nord
Breton
Redguard
Dark Elf
High Elf
Wood Elf
Orc
Step by step installation instructions for the mod can be found by scrolling down on the mod page on Skyrim Nexus.