This quest starts off immediately after the previous quest. Head out to Saarthal. Tolfdir will instruct you to help Arniel in his research. Speak to the mage and he will send you to look for some artifacts. Pick up the amulet next to you. You will be trapped, Tolfdir will come to help you and you will have to put on the amulet. After that, the wall that you took the amulet from will start to glow. Cast a spell at it to destroy it.



On the other side of the broken wall is a small room. After time is frozen and you talk to the Psijic, you will be attacked by a couple of Draugr. Tolfdir will help you here and when you move into the large round room beyond, you'll be attacked there too, from all sides. The room is round which means you can back pedal indefinitely. Pull the chains on either side of the big door to exit and head to the next zone of Saarthal.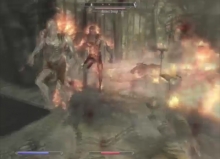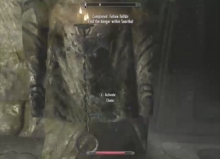 The next room can be quite difficult because it has a Boss Draugr at the end. This Draugr, at higher levels, will likely be able to Shout back at you. The problem comes when you fall in to the level 20 range because he will have a Disarm Shout which will fling your weapon out of your hand. Not only do you have to fight him without it now, but you have to find it afterwards. If you are over level 30, though, the disarm shout won't be used because it has no effect on enemies above level 30.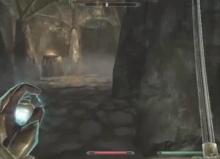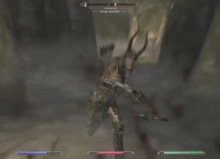 After this, you will come to a puzzle that has you spinning pillars until they match the symbol behind the pillar. There are six pillars in all so make sure you get all of them first and then pull the lever.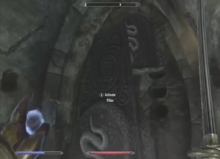 You'll come to another Boss Draugr room except this time he's alone and you have a lot more room to fight him with. Use the center platform and the stairs on either side to keep something between the two of you for protection. Otherwise, he should be no tougher than the previous Boss Draugr.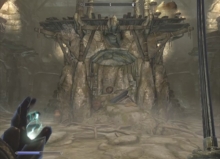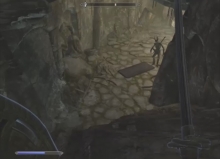 The second puzzle is the same except with 8 pillars. When you spin a pillar, it will spin every pillar after it. For instance, if you spin pillar 1 in the picture above, pillars 2, 3, and 4 will all spin with it. However, if you spin pillar 2, then only 3 and 4 will spin. So solve pillar 1 first, then pillars 2, 3, and 4 in that order.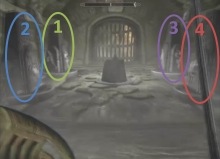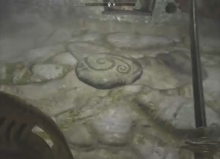 When making your way down the next hallway, watch out for a pressure plate a three way intersection. Usually about this time, Tolfdir will finally be catching up with you. One path will lead to a dead end with some goodies but the other will lead you to the last room.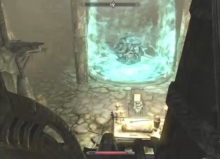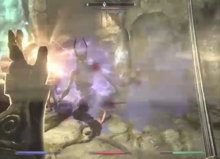 You'll come to a large room with two levels. On the lower level, you will find a glowing ball floating an field of energy and in front of that will be a Draugr sitting in a high back chair. Of course you'll have to fight the Draugr. He shouldn't be too difficult since you have Tolfdir with you but take it slow because he's not a pushover either. He'll soak up a decent amount of damage, has a good number of spells and shouts. When he's dead, loot his body and take the staff from the table in front of where he was sitting. Tolfdir will talk about the Orb and then send you to get the Arch-mage. Exit the room behind the Orb and you'll come to a room with a Boss Chest and a Word Wall behind it. Collect your rewards and then head back to the college.