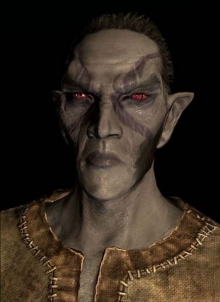 The Dunmer are a race of dark-skinned elves who made their home in Morrowind before much of it was destroyed by a volcanic eruption. They are distrusted by many, but can be fiercely loyal. Their skills with both weapons and magic make them excellent battlemages.
Ability: Resist Fire 50%
Power: Ancestor's Wrath: Nearby opponents take 8 points of fire damage per second for 60 seconds.
Additional Spell: Sparks (Destruction)
Skill Bonuses:
+10 Destruction
+5 Alchemy, Alteration, Illusion, Light Armor, Sneak