Start this quest by talking to Farkas who will direct you to talk to Skjor. He will tell you to meet him at the Underforge which is under the Skyforge. Wait until night time, then head half way up the stairs to the Skyforge. You should see Aela and Skjor come out of Jorrvaskr and come towards you. They will enter a secret door in the cliff face. Follow them inside.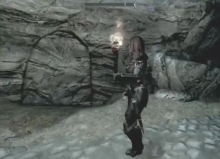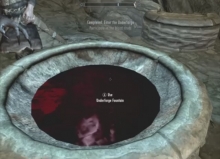 After a short talk, you will be asked to drink from the basin in front of you. You do not have to but you cannot continue with the Companion quest line if you do not. After you take a drink, you'll turn into a werewolf. From here, you will just run around for 60 seconds or so to get the feel of it. You can go running around causing mayhem if you wish but if you don't want to cause any harm, I recommend staying in the Underforge. Once you turn back to normal, you'll be in the woods almost naked, with Aela. She'll tell you about a surprise that Skjor is setting up for you up ahead.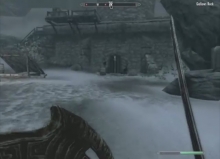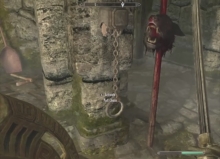 You shouldn't meet any resistance outside of Gallows Rock. Once you get inside, you'll come to a rather gruesome room with werewolf heads scattered around. On the center pillar will be a chain hanging down. Pull that and it will open the gate in this room. I don't recommend transforming into a werewolf in here, despite it being a new and fun idea. The Silver Hand are werewolf hunters and so they pack a lot of silver weapons which, unsurprisingly, do extra damage to werewolves.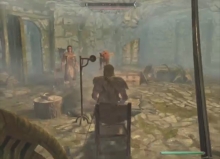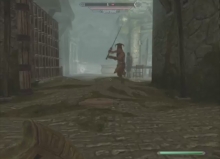 Go down the hall and you'll come to a new room with a fire and a couple of people near it, talking. You'll get the drop on them, but not by much since one of them will likely be facing where you enter the room. Take advantage of it, however, to deal some damage. Usually you can kill one of the two before the enemy sitting down manages to stand up. Kill them both and exit through the door to the South. Follow the hallway and kill the skeevers. At the top of the stairs, stop. You will find a trap to your left and there will be a pressure plate in front of you.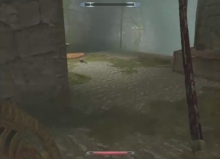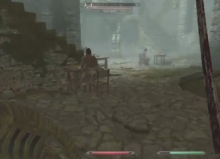 Needless to say, there will be Silver Hand just after the trap (if they haven't noticed you already). They shouldn't be too difficult but if they provide a challenge then step back and wait for Aela to back you up. After you clear the first few Silver Hands, use a shout of your choice to close the distance on the archers at the end. Kill them and then take the stairs to the south. At the bottom, you'll want to go through a door on the right side. You'll enter a larger two floor room with a couple of sitting enemies and a flight of stairs leading upward. At the top of these stairs will be some archers.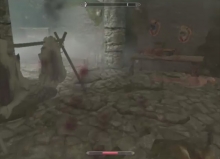 Make your way upstairs, past the Silver Hand archers. If you get overwhelmed, remember that you have your Shouts and Aela to help. Watch out for a rather heavily armed Silver Hand with Great Sword. After you kill them all, make your way to the back of the second floor, past some hanging furs. You'll walk down a long, narrow hallway and come to an open kitchen area. You want to head across the kitchen and to the left. After another hallway, you'll come to a closed door. When you open the door, you'll face their boss, Krev the Skinner, so be prepared.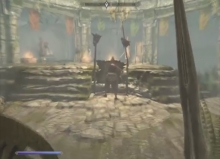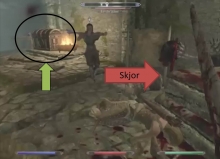 Krev the Skinner will be accompanied by a few Silver Hands (3-4). Charge in and kill the first one using the tanning rack as quickly as possible. At this point, you may want to back up to get help from Aela. Use the shape of the room to your advantage. Since its round, you can essentially run around in a circle if you ever get into trouble. Pick off Krev's help first by using the environment and shouts as appropriate. Once Krev is alone, attack her. She has a lot of health and can deal a pretty good amount of damage so make sure you keep your health up and hit the potions hard. If you can, keep your distance from her because she is almost strictly melee.Once she is dead, make sure to loot her and her chest to the left of Skjor.
Once you've cleared out the room, talk to Aela. After she talks for a moment, she will tell you what your next objective. This starts a radiant quest. After that quest, meet her again at Jorrvaskr to start another Radiant quest. After you've completed two Radiant quests, go back to Jorrvaskr and she'll tell you that Kodlak wants to speak with you. Head down into the basement and talk to Kodlak for your next major quest.