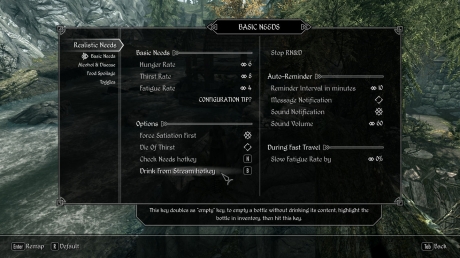 Realistic Needs and Diseases made by perseid9 can be downloaded from Skyrim Nexus.
An impressive modification by perseid9. This mod adds great immersion in the game. Dragonborn can no longer go on for months without food or water. For even better immersion the mod has added feature which makes the Vampires feel no need for food or water while Werewolves feeding satisfies hunger and thirst.
In the default game, most players ignore the diseases. With the modification this is fixed. The players will need to find cure for their disease or they can also rest and hope for disease to cure but sometimes players are suffering from sleep disorder and will need to find the cure as the only option to cure. Mod also gives players the option to keep track of the food in their inventory. If food is kept in inventory for long then it spoils and becomes un-edible for the players.
The mod is fully customizable with choice for every option. Players can enable or disable whichever option they want. The latest version of Realistic Needs and Diseases with step by step installation instructions can be found at mod page on Skyrim Nexus.