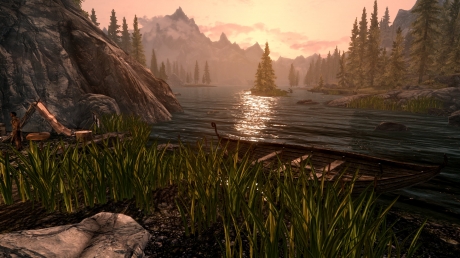 Also known as W.A.T.E.R.
This mod by SparrowPrince can be downloaded from Skyrim Nexus.
This mod improves the water textures, waterfall textures and enhances the terrain quality. This mod features surface water texture at 1024 x 1024 resolution, the waterfall textures at twice the original resolution of vanilla textures and all the other textures at 4 times the original. Here is the list of features of the mod as stated by the creator:

Installation:
Download the mod from Skyrim Nexus.
Extract and then copy the contents of the folder "00 Core - Required" into your Installation Directory- \Skyrim\Data folder.
Copy the contents of the other folders for optional features into the same directory.
Double click the Skyrim Launcher, then click the "DATA FILES" option.
Check the box for WATER.esp and also check WATER Plants.esp if you're also using the 'Plants' optional feature.
Start the game.
Enjoy the improved quality of the new textures!