Delphine will take you back downstairs and explain her plan. You are off to Solitude which is in the far NW. Take the carriage if you can't fast travel there. Get inside the town and make your way over to the Winking Skeever Inn and talk to Malborn. He will tell you to give him things you need. You will take any normal clothes with you but if there's anything you need to bring with you, give it to him and he will smuggle it in for you. Talk to Delphine outside who will give you party clothes and hold the rest of your things in the chest in her secret room until after the quest is over. Take your party invitation and hop in the carriage to get to the embassy. Talk to the woman there to be allowed in.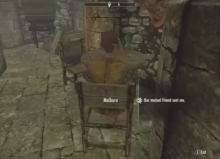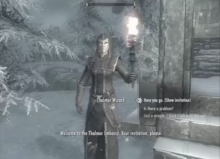 Talk to the hostess and then talk to Malborn. Ask him for a drink, and then tell him you are ready. Head into the crowd and find the Redgaurd named Razelan. Give him your drink and then ask him to cause a distraction. As soon as he starts the speech, meet up with Malborn. He will lead you into a room to get your things. When you go through the next door, he will lock it behind you.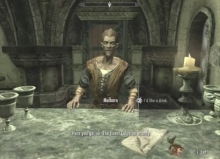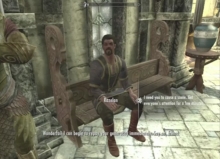 The first room to your left has soldiers in it. You are going to have to get by them and it's unlikely you are going to be able to sneak unless you use invisibility. Use a sneak attack on the first guard you see, and then use the room or the hallway for space to kill them. At the top of the stairs in this room, take a left and head for the door that leads outside.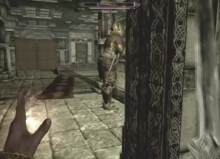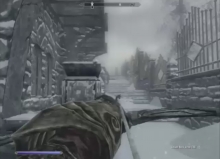 Out here, you will face two guards and a Thalmor mage. He will alternate (or simultaneously) cast a shield spell and a really powerful shock spell. Try to attack them from where you started in this area. Just peak around the corner and shoot with an arrow or magic from here. You can usually get them to stay in ranged mode if you hang back and the pillar in front of you will take most of the beating. If you get a chance, take out the mage first, and then the two guards will be easy. Go past where the guards were and into the next building.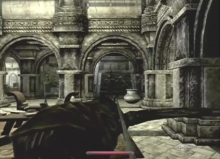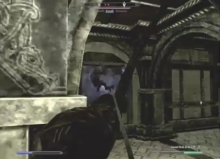 Kill the guard at the far end and then you'll have to deal with two people and a summoned golem. There are plenty of obstacles to use so take a swing or shot and then duck behind a column or doorway. One of the people will have a key to the dungeon. Take that and head downstairs. In the dungeon will be a single sentry. Kill him from afar, check the chest for a book (it's marked), and free the lone prisoner. After you free him, a couple of soldiers will come down with Malborn. It is possible to save Malborn if you are quick (which will lead to another quest later). Kill the two guards and one of them will be carrying a key for that trap door. Go through the trap door.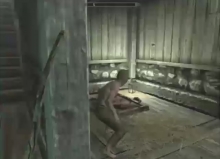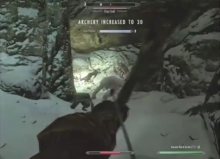 In this tunnel is a lone Frost Troll. Kill it and follow your companion out of the cave. If you have trouble, it is possible to get him stuck going up and down the ramp in the room by going under it and then coming back toward him repeatedly. Head back to Riverwood to talk to Delphine to finish this leg of the quest. Make sure you take your things from her chest.