Cinematic Fire Effects 2 HD is a modification created by Ichibu and can be downloaded from Skyrim Nexus.
The Cinematic Fire Effects 2 HD is a mod which focuses on replacing the default fire visuals of the game by Bethesda with better and high definition and color corrected flames or explosions.
A comparison between the modded flames and the default Vanilla flames can be seen below: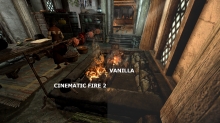 The update 2.3 of the mod fixed some minor bugs in the mod and also with that update the mod was finalized.
Installation:
Download the mod from Skyrim Nexus.
Unpack the .rar in the Skyrim\Data folder of the game.
Run the game like usual from the Launcher or shortcut on desktop.