ENBSeries mods are nothing new to PC gamers. There is a large variety of ENB which can be used for various games. With a powerfull computer and correct ENB settings, even older games released 5 years back with medium graphics can be compared to the graphics and visuals of the games this year.
ENBSeries adds various graphical features to the games such as: SSAO, Depth of Field, Bloom, HDR etc.
Each ENB mod is fully customizable and so the variety of available ENB mods is huge.
To use the ENB mod a .dll is required. Latest version of the ENB .dll and ENB mod files for Skyrim can be obtained from this page on EnbDev.
After extracting the archive, there will be 2 versions of the mod:
Wrapper Version
Injector Version
Open the Wrapper Version folder, and copy all the content to the Skyrim installation directory where Skyrim.exe file(TESV.exe) is located. You can locate the enbseries.ini file in the same folder and open it to make changes as per your preference. When done, just launch the game as usual and press Shift + F12(default) to enable the mod in game. If the game crashes, try the Injector Version instead.
Here is a comparison shot of the game with ENB mod enabled and disabled: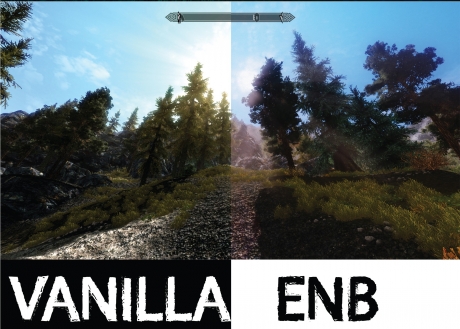 The other mods used in the game shown in the screenshot are "Climates of Tamriel", "Flora and fauna overhaul" and more which we will talk about further in this section.