In Riverwood, head to the Sleeping Giant Inn, take an attic room and try to sleep. When you are interrupted, speak to Delphine and then follow her. When you enter her room, close the door behind you and then follow her into the secret area. Talk to her for a little bit and find out where you are headed next and why.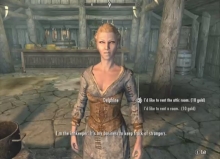 You will head off to Kynsgrove which is very close to Windhelm. If you can fast travel there, do so, otherwise head for the Whiterun stables and take the carriage there. Once there, head southeast. You'll run into a scared villager once you get to the little village. Head up the nearby hill and when you get close to the top, Alduin (the Dragon from Helgen) will appear and call out another Dragon. Alduin will leave and you will be left to fight Sahloknir. When he first comes out of the ground, try not to be too close or you'll be knocked down.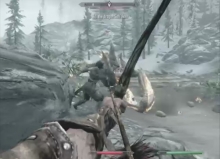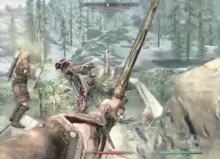 Sahloknir can be quite aggressive and there isn't much in the way of cover. I like the rock that's on the side of the hill facing the village. It's just big enough to provide cover from aerial attacks and when he lands, he'll pretty consistently do so closer to the burial grounds. Just keep hitting him with arrows or melee attacks and using a double fisted heal when you take damage. Use the rock to your advantage and hopefully he should go down without too much hassle. Once complete, talk to Delphine to find out what's going on.